Please click on either of the links below.  Download the executable file or zip, double click and install.  Enjoy and let your friends know what a great little app you have found (for free).
We have updated SuperDiff to SuperDiff2 with the following new features:
Copy results to clipboard - for pasting into your LIMS or docs.
Language choice - English/German (contact us if you would like a version in your native tongue).
WBC count can be added to calculate corrected WBC.
User settings are saved from last use - for language and sound settings.
Do please let us know if there is anything else you would like to add. 
Windows 64 Bit 
Download SuperDiff2 as a zip - click here
Download as an executable file - click here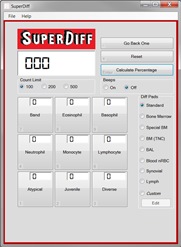 Update: 04/10/2016
There has been lots of interest in SuperDiff following the posting on some Clin Path forums.  Most frequent feedback has been 'do you have a version for Mac?'  The answer is not yet, but since so many (2) have asked I will make one.  The development will be Mac O/S first then I will try to create for touchscreen devices (iPad/Android/etc) but this is low priority since a touchscreen interface does not really lend itself to Diff Counter functions (one cannot look down a microscope and at a touchscreen at the same time - there are options of adding a Bluetooth keyboard but that might add a level of complexity that renders the simple SuperDiff program useless, we will see).  So, in brief, OS X next and coming soon.  :-)